DRAWstitch launches the new DRAWings® version XI
DRAWings® has been the first embroidery software to be fully integrated with a graphics designing software. Now, DRAWings® XI, goes one step beyond with its full MAC compatibility. It has the powerful combination of its new easy-to-use built-in designer and its ability to work seamlessly with a graphics software left intact! Create your own designs from scratch with far more ease, transform and edit shapes, add text, all in 3D designing mode. Produce stunning designs with crystals/rhinestones easily that you can combine with embroidery or textile printing. Now every design can be your embroidery fill type that will fill in your new creations. The array fill will change the way you used to fill your embroidery designs The new automated monogramming tool together with the hundreds of decorative frames (Borders, Corners, Sides) will give you all you need to create your monogram designs. You can now use the software to create and cut your appliqué designs or any other material by connecting it directly with the most popular cutters in the market.
NOTE: DRAWings® PRO XI comes in one edition: the equivalent of the up to now known as "Professional Edition" of DRAWings software and reads all ".DRAW" files created from any previous version. All features and tools of the previous Professional Editions have remained intact in this new DRAWings® PRO XI version! DRAWings PRO XI is no longer support CorelDRAW software for in place activation. Although, you can copy designs from CorelDRAW, paste them inside DRAWings PRO XI and they will be automatically converted to stitches.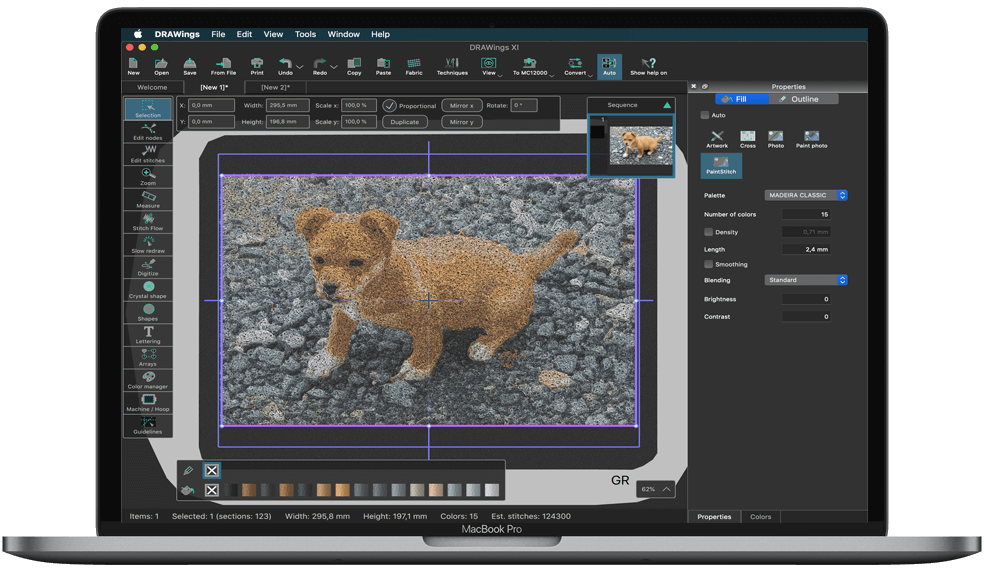 Convert any photo to a beautiful PaintStitch masterpiece
Any photo can now become a beautiful embroidery design. With PaintStitch you will get photo-realistic embroidery results with the use of the advanced, patented algorithms that were implemented for this purpose. PaintStitch designs are perfect for frames, gifts and for capturing unique moments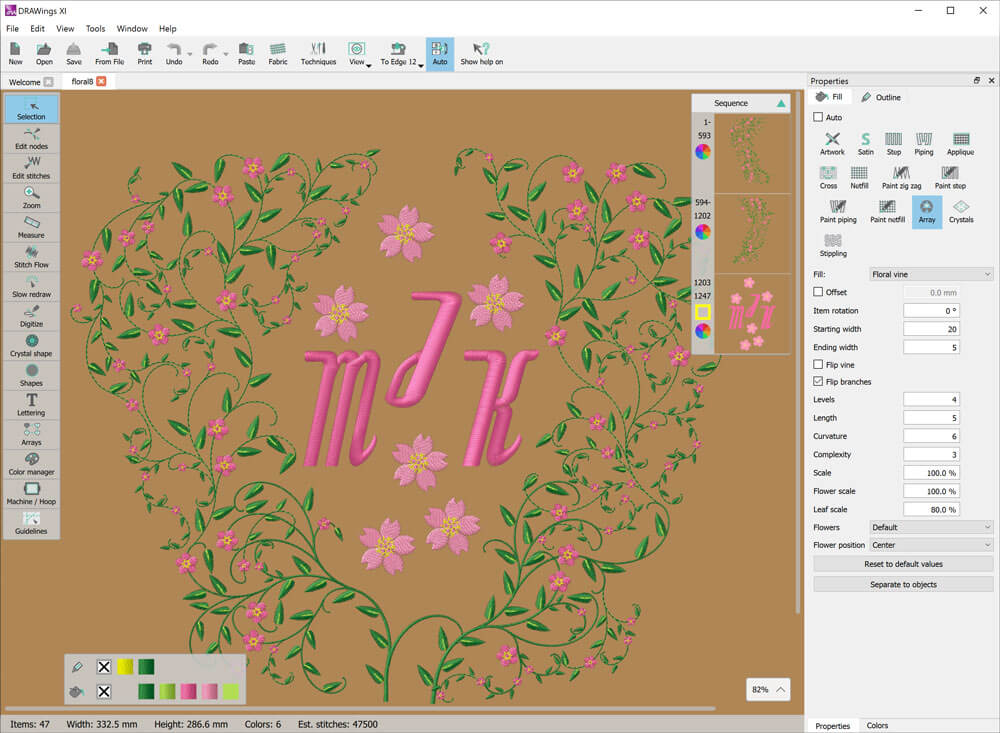 Automatic floral design creation
This is a new revolutionary feature which dynamically creates floral designs and fill areas to apply to your designs. You may combine this feature with your own designs and even set your own flower designs to be used by the floral creation. The combinations are unlimited.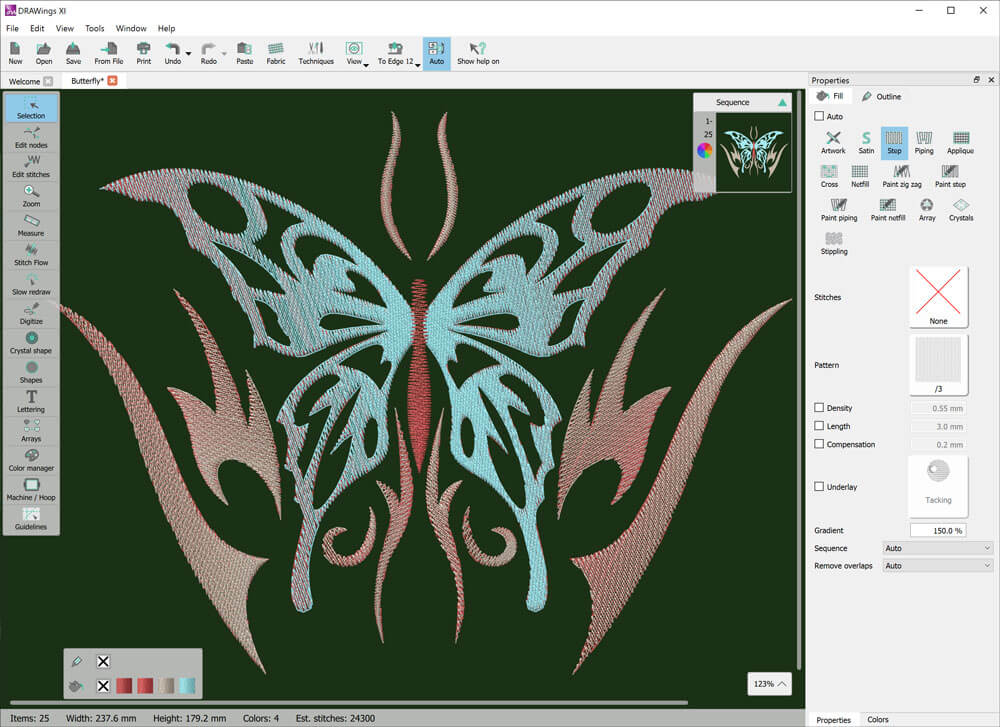 Create designs with blended thread colors (gradient fill)
Blending colors is now possible with the new gradient fill function. By blending two or more overlapping shapes with gradient fill you can create beautiful fading color effects that change the look and feel of the design completely. You can control the gradient percentage and easily change its direction.
MINIMUM SYSTEM REQUIREMENTS

| | | |
| --- | --- | --- |
|   | CPU: | 2,0 GHz Intel or AMD processor |
|   | RAM: | 4 GB of RAM |
|   | Hard disk: | 1,5 GB of free uncompressed space |
|   | Graphics card: | 3D DirectX 9c accelerator with at least 1 GB RAM, 32-bit color (Windows only) |
|   | Monitor Resolution: | 1366 x 768 32bpp |
|   | O/S: | Windows 7, 8 or 10 with the latest Service Packs MacOS latest and previous version, compared to the release date of this software |
|   | Ports: | Available USB port for the USB Security key (where applicable). |
|   | Internet connection: | Required |
Some of the available features of Editing module are listed below:
Editing abilities for stitch data files(like .dst, .pes, .jef, etc.)
Split stitch objects( like those inside .dst, .pes etc. files)
Re-sequence objects by click and dragging the objects on the Sequence manager
Transform selected objects by creating copy or not
Change the Satin Width (on stitch data objects) by specifying the Growth or the shrink in mm and the direction
Change the density of the selected objects
Rotate, Scale, Mirror selected objects
Convert Step to Satin(on stitch data objects)
Edit Step patterns
Stitch object alignment
Reverse Stitches of the selected Stitch data objects
Smooth the Stitch data objects
Split the Stitch data objects by specifying lines
Create copy of the selected objects by reference line
repeat the last made modification
Specify if the copies of the objects will be placed at the end or after the initial
Duplicate the whole Design
2-point copy of objects